We who run Luleå Adventure are Mauro Marchesoni and Anki Andersson.
From interest to a tourist company
Mauro, who originally comes from Trento in northern Italy, moved to Sweden in 1994, and settled here in Luleå. He has always had an interest in dogs. But the interest in draft dogs grew when his daughter wanted a dog. the first dog was Laika who was a mix between Alaskan Husky and Malamut. Over the years, the herd grew larger and expanded with more Siberian Huskys and the idea of a tourism company was raised.
Me, Anki is from Gammelstad / Luleå. Has always been interested in dogs and had many different breeds over the years. Ever since I met Mauro, the Siberian Husky has been close to my heart.
The company Luleå Adventure was founded in 2006 and was initially run as a hobby company on the side of the job for Luleå Municipality. Since 2016, the company is run full time

Our company is located between Ale and Selet, which are two small villages about 40 km southwest of Central Luleå. Ale is an old village with a long history. A mill from the middle of the 17th century is preserved and in the summer it is used as a café. In Selet there is an old ironworks from the 18th century preserved which is now part of a nature reserve.
New dog kennels were built during the summer and purchases of more dogs were made. Barbecue and sauna hut were built during the autumn. In late autumn we got 6 new cute sibling puppies. During the winter of 2017, we received a lot of tourists from different parts of the world. We offer a family experience close to the northern nature. You who come to us get to meet our happy and talented dogs.
We have a few different dog sledding tours to offer. Partly different tours during the day and also dog sledding tours in the evening, which can be an exciting alternative. Our tours are adapted both for families with children of different ages and for more adventurous souls. Our motto is flexibility. We can also offer transfers from your hotel. It is also possible to book a wood-fired sauna.
When you come here, we go into the barbecue hut and go through clothes and shoes. We talk for a while and get to know each other. Then it's time to visit our nice purebred Siberian husky. They can sound quite a lot as we have 24 pcs. But everyone is kind and happy when they meet new people. If you want, we are happy to show you how to harness the dogs, so we can help with that. The dogs know what's going on and they are happy to let themselves be harnessed.
Since we have connected the dogs in the team, they are very eager to get going and it is a horrible barking and barking. To reduce the stress level in the dogs, it is important that you quickly get in place in the sled. When the Guide shouts GO, the dogs explode and rush away at great speed. After a couple of kilometers, the dogs calm down and start trotting at a reasonable pace. The guide gives commands to the dogs as they tirelessly run through the forest, over open traps and streams.
Dog sledding is a great way to get out into nature. The clean cold air against the face, the silence of the forest, the scraping of the snakes in the snow is an experience in itself. If we are lucky, a moose or a herd of reindeer may appear.
An opportunity for photography and coffee break
After half way we stop and let the dogs recover and at the same time there is an opportunity to take photos. Then the journey continues home again. Once back, we are helped to harness the dogs and let them into the kennels. Hot drinks and sandwiches are served in our cozy barbecue hut before returning to the hotel. If you have any allergies or wishes for sandwich spreads, we want to know when booking. We use organic raw materials produced in Ale or near Ale. The honey that you can use for tea is home-grown on the farm.
Dog sledding in the evening is another experience
Running a dog sled in the evening is another experience. With the help of headlamps that light up the road, we travel through dark forests. On a starry night, if you are lucky, you can see the northern lights dancing in the night sky. A magical experience that is very much appreciated by our guests.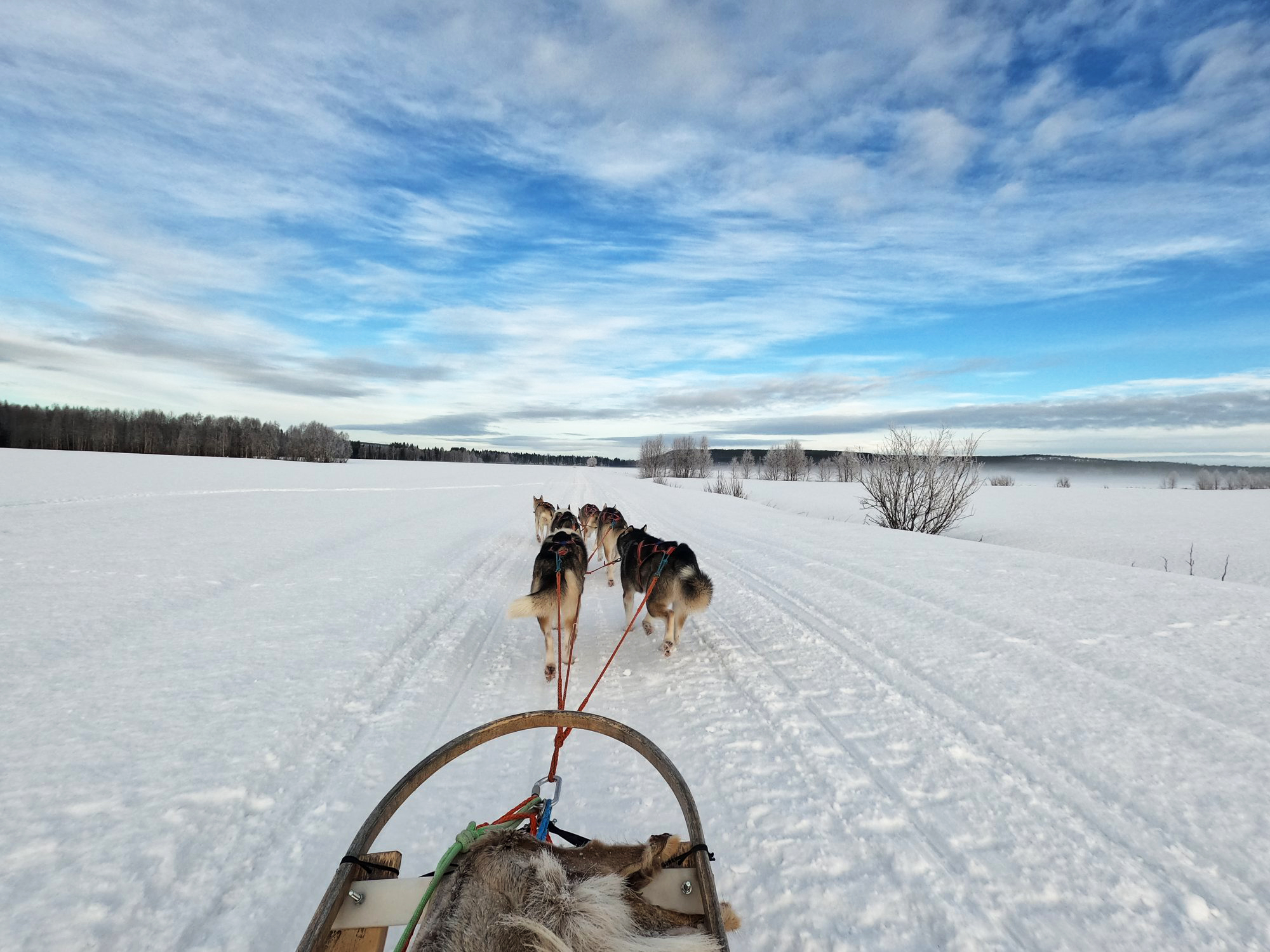 Try running a dog sled yourself
You can also try running a dog sled yourself. Then we go through how the sled works and what you should think about when driving.
Our experience says that 6-8 dogs, depending on weight and snow conditions are suitable when you are a beginner. You get an easy-to-handle team that does not run too fast. We help to harness and harness the dogs. If you are two, you share a sled. One drives and one sits on and after halfway you change drivers so that both can try. The guide drives the first team and keeps track of the road and you. We put safety first and it is important that you pay attention to the dogs you have in the team and on the guide. An exciting and educational experience when you get to see how dogs and people work together.
After a wonderful dog sled ride
After a wonderful dog sledding trip, it is nice to get into the heat and drink hot coffee or tea. If you are very frozen, you can warm up properly in our cozy wood-fired sauna. To get the blood circulation going properly, you can whip yourself with leaf litter and when you are really warmed up, those who are a little more brave can rush out into the snow and make snow angels. We provide with soap and towels. If you book a sauna, cold drinks and a meal afterwards are also included. We serve a typical Norrbotten dish with organic and locally produced ingredients. A typical Norrbotten dish can be Renskav with mashed potatoes and lingonberry jam, Nikkaluokta soup or Älgköttsoppa with dumplings. Announce allergies in advance.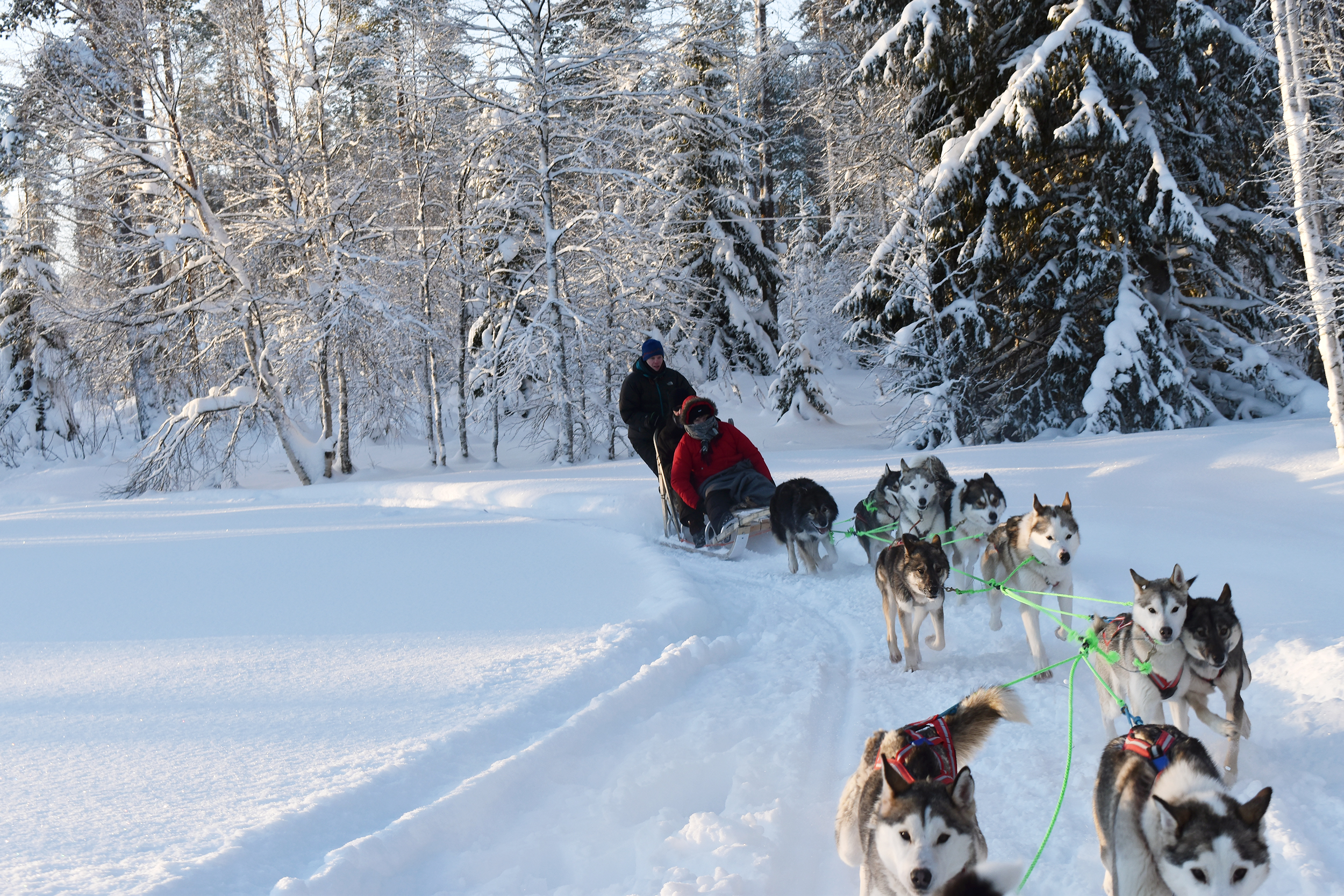 To think about when you are out in the cold and running dog sleds is how you are dressed. Even if it is not so many degrees below zero, the wind draft makes the cold noticeable. In addition, you stand or sit still for at least 1 hour. Then it is important that you are properly dressed. Preferably an underwear in wool, a thinner sweater in wool and a thicker sweater inside the jacket. In addition, a pair of warm trousers that you can wear under the coveralls. Thick socks in a pair of lined boots, double gloves and a warm hat. With us you can rent shoes and snowmobile overalls.
If canceled no later than 2 weeks before the booked date, the full amount will be refunded, 1 week before 50% of the amount is refunded thereafter nothing will be refunded. If you book the same day, payment is made in cash or via swish. If you have more questions do not hesitate to contact us again.
We have a liability insurance but recommend that you take out your own travel insurance if the accident should occur.

All dog sledding trips include coffee or tea and good sandwiches.